BIG ART, BIG WALLS, BIG STORIES! When Walls Talk ... and they do! .. inclusive, revealing and raw. Ultimate #destinationmuraltown digital road trip! A 30-year mural pioneer, Master Artist Michelle Loughery has created numerous award winning mural projects, raised millions for communities through her innovative Wayfinder art program. Loughery is bringing stories of the power of community art to the digital wall. Climb Loughery's digital scaffolding Hear the ART and see the stories! AR:T ROUTE Radio is an emerging canvas of immersive AR:T experience spots, art installations, mapped destination digital murals towns, with highlights of the hidden stories of Loughery's and other artist's work and the inspiring people you meet when painting on the streets. Conversations about community art, social change, and so much more.
Episodes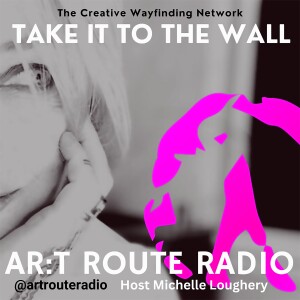 Thursday Feb 03, 2022
Thursday Feb 03, 2022
Take a listen on this episode of AR:T ROUTE Radio as Internationally renowned Master Muralist and Artist Michelle Loughery gives us a glimpse of the roots and meaning of Loughery's award winning Wayfinder Sunflower AR:T Project. 
A conversation with the sunflowers. After a year of planting virtual sunflower seeds and working with a group of talented artists and community builders,  Loughery and Brigitte Red talk about the importance of the work it takes behind the scenes of non- profit in community. Community building through art in action.
The Wayfinder Sunflower Project at Gallery Vertigo
The Seed by Seed Art Show
https://www.thesunflowerproject.ca
Join our communities on Instagram and Facebook!
@artistmichelleloughery @artrouteradio
@artrouteblue  @thesunflowerproject.ca 
"We acknowledge that we work and gather in the northern part of the unceded Okanagan First Nation territory and that many descendants of the Suqnaquinx still live here."
© 2022 Michelle Loughery Productions, All Rights Reserved