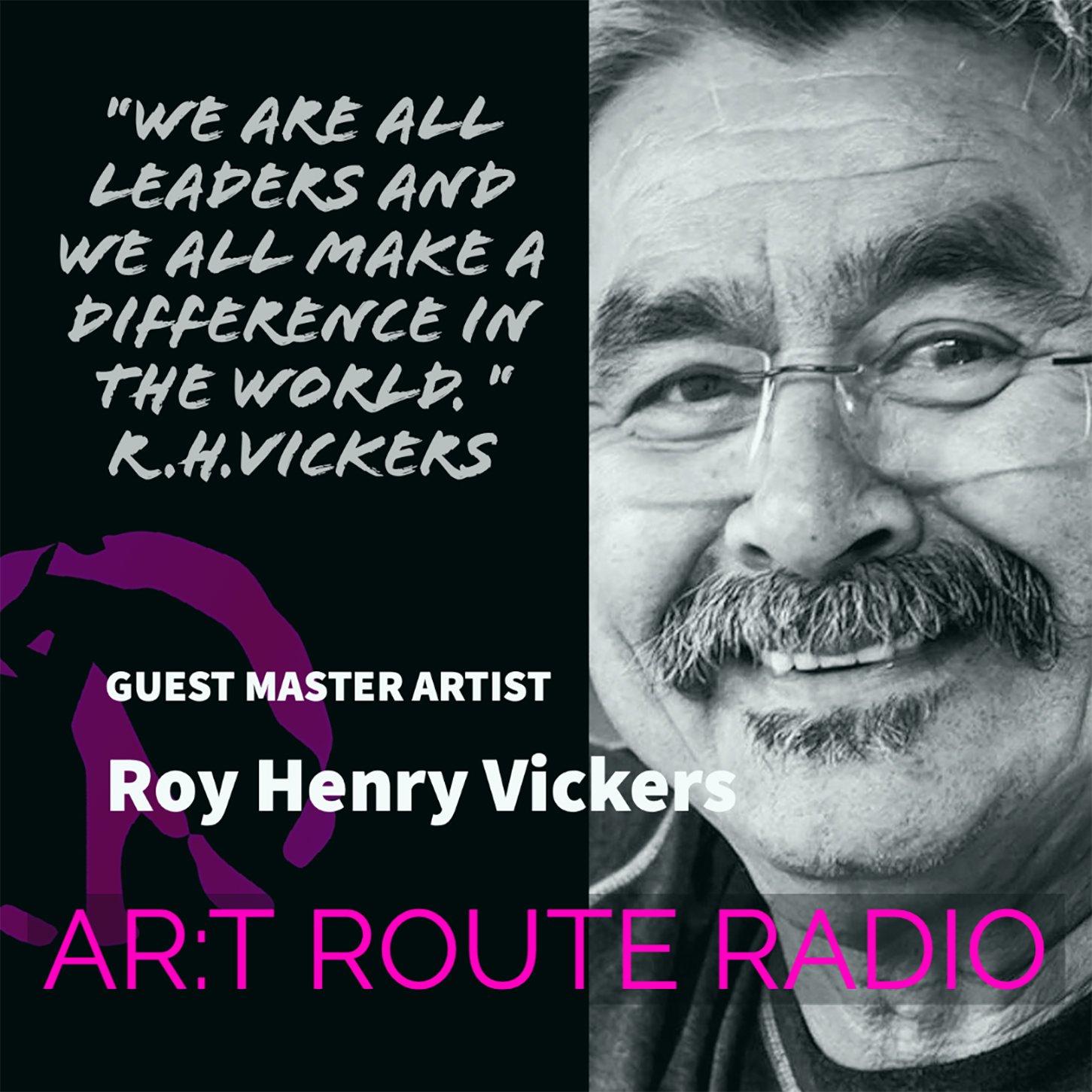 Michelle and Master Artist Roy Henry Vickers have a digital coffee conversation about the importance of art in the healing of the world after Covid. Listening to our ancestors will help create a path of healing and connection.
"A pipe carrier walks in the ways of the four directions, which are common to all nations in the world: teacher, healer, visionary and leader," says Roy. "We always have the pipe in our minds so that when we get into situations where we feel like we're off kilter or off centre or, we can always go back to this place of peace and centre ourselves, ask the creator to help us be who we are." Roy Henry Vickers
Photo credit © Simon Ratcliffe www.simonsees.com
Image courtesy of Roy Henry Vickers
Join Michelle and guests as they "take it to the wall" through conversations about art and art as social change and so much more.
AR:T ROUTE Radio ... be connected - follow Artist Michelle Loughery Instagram | AR:T ROUTE Radio Instagram | AR:T ROUTE Radio The Creative Wayfinding Network | Take it to the Wall Blog | AR:T Route Radio Facebook
Go see the The Sunflower Project's Year of the Sunflower and see how you can get involved - link
Subscribe and follow, and donate to the podcast!
Donate and support Wayfinder Projects and art stories on AR:T Route Radio - link
AR:T ROUTE Radio is an emerging canvas of immersive AR:T experience spots, art installations, mapped destination digital murals towns, with highlights of the hidden stories of Loughery's and other artist's work and the inspiring people you meet when painting on the streets. Conversations about community art, social change, and so much more.
A 30-year mural pioneer, Master Artist Michelle Loughery has created numerous award winning mural projects, raised millions for communities through her innovative Wayfinder art program. Loughery is bringing stories of the power of community art to the digital wall.
See the radio and hear the street art! BIG ART, BIG WALLS, BIG STORIES!
Join our communities on Instagram and Facebook!
@artistmichelleloughery @artrouteradio
@artrouteblue @thesunflowerproject.ca
AR:T ROUTE Blue music by Tanya Lipscomb.
"We acknowledge that we work and gather in the northern part of the unceded Okanagan First Nation territory and that many descendants of the Suqnaquinx still live here."
© 2020 Michelle Loughery Productions. All Rights Reserved.