BIG ART, BIG WALLS, BIG STORIES! When Walls Talk ... and they do! .. inclusive, revealing and raw. Ultimate #destinationmuraltown digital road trip! A 30-year mural pioneer, Master Artist Michelle Loughery has created numerous award winning mural projects, raised millions for communities through her innovative Wayfinder art program. Loughery is bringing stories of the power of community art to the digital wall. Climb Loughery's digital scaffolding Hear the ART and see the stories! AR:T ROUTE Radio is an emerging canvas of immersive AR:T experience spots, art installations, mapped destination digital murals towns, with highlights of the hidden stories of Loughery's and other artist's work and the inspiring people you meet when painting on the streets. Conversations about community art, social change, and so much more.
Episodes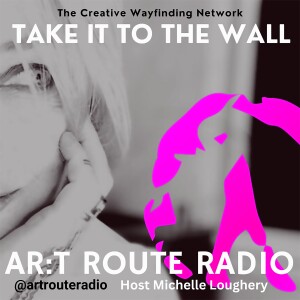 Thursday Oct 06, 2022
Thursday Oct 06, 2022
Route 66 to 99 friendships and alliances along the art road trip. Loughery talks to the visionaries who championed along side her for over 25 years. The dream of a connected road trip with art the destination and  rural revival economies the driving force. Special Guests Lorrie Fleming, David Knudson and Rick Antonson.